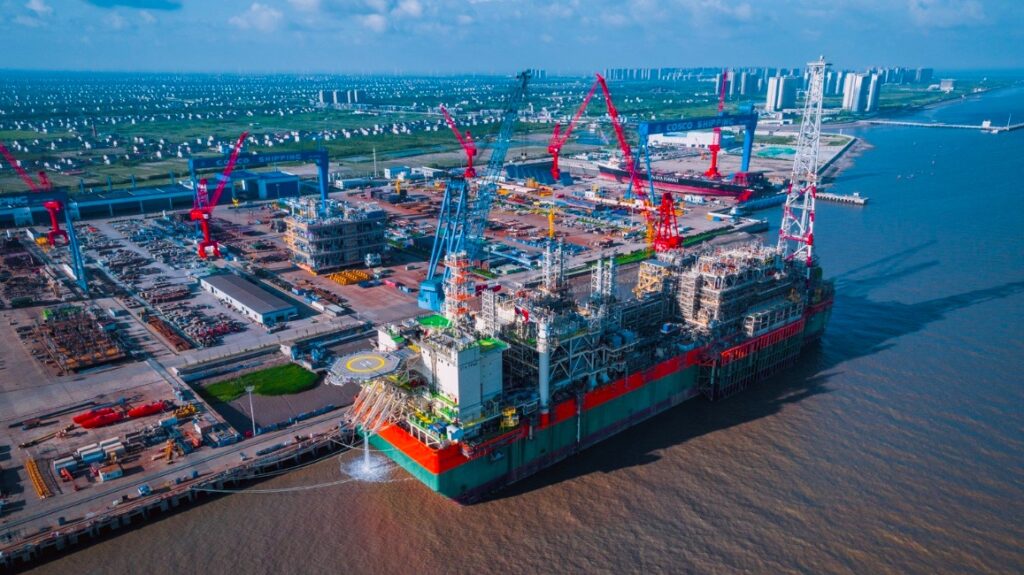 The floating production, storage and offloading (FPSO) vessel for the bp-operated Greater Tortue Ahmeyim (GTA) liquefied natural gas (LNG) project has started its journey towards the project site off the coasts of Mauritania and Senegal.
The FPSO set sail on 20 January 2023 from Qidong, China after successfully completing a series of sea trials following construction over the past three and half years. It will now travel 12,000 nautical miles via Singapore to its final destination – around 40km offshore on the maritime border of the neighbouring countries.
The FPSO is a key part of the major integrated GTA development that also includes subsea development of gas fields and near-shore floating LNG (FLNG) facilities. The project's first phase is set to produce around 2.3 million tonnes of LNG per year.
Rahman Rahmanov, bp's vice president projects for Mauritania & Senegal said: "We are developing one of the world's most unique and innovative gas projects and the FPSO forms one of the most important components. Achieving the successful sail away of the GTA Phase 1 FPSO is a testimony to the tremendous partnership with our contractors Cosco Shipping and Technip Energies. By working together as one team, we have been able to create a culture of resilience and focus on safe delivery. We have relentlessly focused on safety, quality, and delivery."
The FPSO will process natural gas – removing condensate, water, and other impurities – before exporting it by pipeline to the project's FLNG facilities, 10km offshore. With eight processing and production modules, the FPSO will process around 500 million standard cubic feet of gas per day.
The majority of the gas will be liquefied by the FLNG facilities, enabling export to international markets, while some is allocated to help meet growing demand in the two host countries. Condensate will be periodically transferred from the FPSO to shuttle tankers for export to market.
The FPSO, which will sit in about 120m of water, will have up to 140 people on board during normal operation and serve as home for the project's production team. With an area equivalent to two football fields and 10-storeys in height, the FPSO is made of more than 81,000 tonnes of steel, 37,000m of pipe spools and 1.52 million meters of cable. It has also undergone more than 330,00 inspections.
Gordon Birrell, bp's executive vice president of production and operations, said: "This is a fantastic milestone for this important project, which is a great example of bp's resilient hydrocarbon strategy in action. The team has delivered this in a challenging environment, including through COVID, always keeping safe operations at the heart of what they do. With the continued support of our partners, Societé Mauritanienne des Hydrocarbures in Mauritania, Petrosen in Senegal and Kosmos Energy, we remain committed to helping both countries to develop their world-class resources in a sustainable way."
GTA Phase 1 marks the beginning of a project that is expected to have a lasting and positive impact for generations to come.
bp and the governments of Mauritania & Senegal already have a long-standing and wide-ranging cooperation encompassing the GTA project and other potential energy developments. In October 2022, bp announced the signature of an Exploration and Production Sharing Contract for the BirAllah gas resource in Mauritania. Most recently, it signed a Memorandum of Understanding (MoU) with the Government of Mauritania to deliver a programme exploring the potential for large-scale production of green hydrogen in the country. In addition, bp continues to work with partners on the development of a major gas to power project in Senegal – Yakaar Teranga.